FP7 Hunt is reader supported and may earn a commission when you purchase using our affiliate links
Did you know that 62% of gun owners in the United States use rifles? But let's be honest: Owning a rifle is a pain in the ass. It's obviously long, heavy, and bulky.
That makes them hard to secure especially when you got curious kids lurking around your house. But with the best rifle cases, your worries will surely vanish.
I've reviewed over 20 gun safes and here are the best rifle cases that I tried. These rifle safes will surely help you safeguard yourself, your loved ones, and your firearms.
Best Overall
Material:

16-Gauge Steel

Handgun Capacity:

Up to 3 rifles

Dimensions:

10'D x 15.25'W x 42'H

Durability:

5/5

Pricing: 2/5

Best Capacity
Material: Alloy Steel
Handgun Capacity:

Up to 24 long guns

Dimensions: 60

'H x 28'W x 23'D

Durability:

5/5

Pricing: 3/5

Best Quick Access
Material:

Alloy Steel

Handgun Capacity:

Up to 2 rifles

Dimensions: 48

'D x 24'W x 7'H

Durability: 4/5
Pricing: 4/5
FP7 Hunt is reader supported and may earn a commission when you purchase using our links
Table of Contents
Expert's Picks for the Best Rifle Case
Let's get straight to it. You're after the best rifle case for 2023, and we've got you covered.
Each of these rifle cases offers you the durability, security, and peace of mind you're longing for.
Hornady RAPiD Safe [Best Overall]
Access mechanism:

RFID Access

Material:

16-gauge Steel

Dimensions:

10'D x 15.25'W x 42'H

Storage capacity:

Up to 3 rifles
How about a rifle case with advanced security features for convenient and quick access?
If you're looking for that, look no further than the Hornady RAPiD Safe. This is among the best gun safes I've tried, and it's rightfully so!
This top-notch case has the sturdiness of 16-gauge steel and the advanced access mechanism of RFID technology. It's a tamper-proof fortress for your firearms, ensuring their safety and your peace of mind.
Whether you're storing it at home, in your vehicle's trunk, or tucked away in a closet, the Hornady RAPiD Safe provides the freedom and flexibility you desire.
Pros
RFID touch-free entry

Tamper-proof and exceeds safety standards

Versatile storage options

Sturdy construction with four internal locking lugs
Cons
Heavy and may require wall mounting

Stiff foam interior that may scratch firearms

Limited additional space for small valuables or handguns
Winchester Ranger Deluxe 19-7-E Gun Safe [Best Capacity]
Access mechanism:

Electronic keypad

Material:

Alloy Steel

Dimensions:

60'H x 28'W x 23'D

Storage Capacity: Up to 24 long guns
The Winchester Ranger Deluxe 19-7-E Gun Safe is a sturdy safe built from high-quality alloy steel and provides ample space for up to 24 long guns.
Its electronic keypad lock ensures secure access, while the fireboard layers in the door and body offer considerable fire protection.
The safe not only meets but surpasses DOJ standards for firearm storage and burglary protection, giving you peace of mind about your valuables' safety.
Pros
Ample storage space

Robust build quality

Comprehensive fire protection

Surpasses DOJ standards
Cons
Some instances of shipping-related damage
SnapSafe Under Bed Safe [Best Quick Access]
Access mechanism:

Keypad and Key

Material:

Alloy Steel

Dimensions:

7'D x 24'W x 48'H

Storage capacity:

1 rifle
The SnapSafe Under Bed Safe is an XXL-sized safe designed for out-of-sight storage of firearms and valuables.
Of course, all that with easy access when you need it.
It's equipped with a digital lock, allowing you to set a 3 to 8-digit access code. For added security, there's a backup key.
The SnapSafe Under Bed Safe features a wide, large-capacity slide-out drawer, which can accommodate most of your valuables besides firearms. Its versatility extends to on-the-road use as a trunk safe in larger SUVs.
Pros
Childproof

Spacious with carpet

Smooth drawer
Cons
Not burglary-proof

Noisy keypad beep

Drawer slide issue.
American Furniture Classics 502 Gun Concealment
Access mechanism:

Traditional lock and key

Material:

Solid wood and MDF veneer

Dimensions:

51' x 17' x 19'

Storage capacity: Up to 5 long guns
One thing I look for in a rifle case is its solid construction, convenient functionalities, and discreet storage capabilities.
And I kid you not, the Americal Furniture Classics 502 Gun Concealment ticked off all that!
Made of solid wood and wood veneers, this case provides secure and concealed storage for up to five long guns. Its versatile design further enhances its appeal, allowing it to blend with any decor seamlessly.
Pros
Solid construction

Discreet storage

Convenient functionalities

Doubles as a functional bench
Cons
Assembly can be tricky

Disappointing packaging and small screws.
RPNB Large Rifle Safe
Access mechanism:

Electronic keypad and backup key access

Material:

Alloy Steel, Carbon Steel Metal

Dimensions:

11.81'D x 13.77'W x 57.09'H

Storage capacity: Up to 5 rifles
If you're searching for a spacious and secure storage solution for your rifles, the RPNB Large Rifle Safe can be your go-to.
Crafted from a robust blend of alloy and carbon steel, this case offers ample room for up to five rifles, with or without scopes.
And for the bonus? It's the separate compartment for ammo and other valuables, ensuring all your gear is neatly organized and easily accessible.
Pros
Ample safe capacity for 3-10 rifles

Separate ammo cabinet for bullets and handguns

Electronic keypad lock with backup keys

Excellent customer service from RPNB
Cons
Limited space for additional items

The top lock box isn't suitable for a handgun

Limited configuration options

Not water resistant
Large Rifle Gun Safe Box
Access Mechanism:

Keypad and Key

Material:

Alloy steel

Storage Capacity:

Up to 6 long guns
Last but not the least is the Large Rife Gun Safe Box.
This rifle case is a top-notch choice for a rifle case that offers both impressive storage capacity and advanced security features.
This safe box is designed to store up to 6 long guns, allowing you to keep all your firearms securely.
The safe also features an advanced combination fingerprint reader and a silent mode for quick firearm access. Additionally, it has a built-in alarm system for added security.
Pros
Advanced security features

Sturdy construction

Pry-resistant concealed hinges

Waterproof
Cons
Requires 4 AA batteries for digital keypad and key lock

Limited storage capacity (5-6 rifles with scopes)
Why Do You Need A Rifle Safe
By understanding why you need a rifle safe, you're making a crucial step towards ensuring the safety and security of your firearms and adhering to legal standards.
Safety: A rifle safe keeps your firearms out of reach, preventing accidents, especially with children around.
Peace of mind: With a secure safe, you'll sleep better knowing your guns aren't easily accessible.
Legal compliance: A rifle safe ensures you're abiding by the law, which may require safe storage of firearms.
Avoiding trouble: Without a safe, you could face legal consequences.
Features To Look for the Best Rifle Cases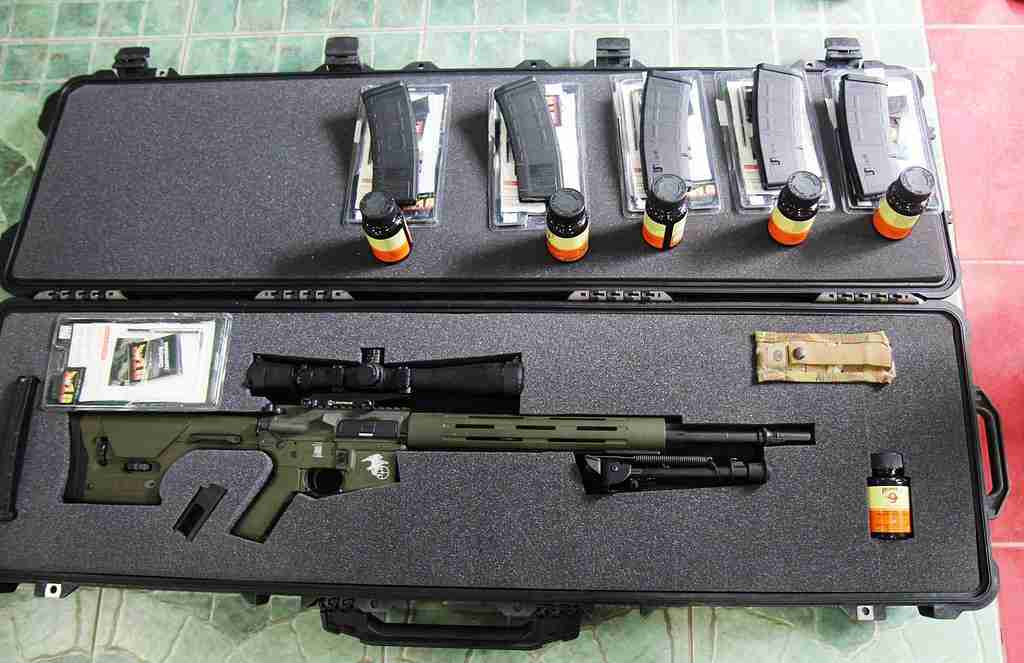 As you're searching for the best rifle case in 2023, there are several features you'll need to consider.
Storage Capacity
Your rifle safe's storage capacity is crucial in determining its suitability for your needs. It's about fitting your firearms and the additional gear and accessories.
Look for cases with ample room, adjustable compartments, and extra pockets for optimal organization.
You'll also want a case that can adapt to your collection as it grows. Also, remember portability. Even with a large capacity, a good rifle case should still be manageable to transport.
Construction
Of course, when buying a rifle safe, its durability and security are among all the things you should prioritize.
Look for a case made of robust steel; the thicker, the better.
This ensures high resistance against any potential damage or unauthorized access. A solid door construction further enhances the security aspect.
Consider the convenience of the case's design, too. Does it offer compartments for easy organization? Can it be easily transported?
Security Features
You're not just looking for convenience in a rifle case, but your overall security and protection. That's why you gotta look for a rifle case that has a nice set of security features.
These features ensure your firearms are appropriately stored and protected from unauthorized access.
| Feature | Importance |
| --- | --- |
| Multiple Locking Bolts | Provides an extra layer of security against theft |
| Pry-Resistant Doors | Prevents unauthorized access with tools |
| Reinforced Hinges | Strengthens the case structure |
| Drill-Resistant Hard Plate | Protects the lock from being drilled |
| Legal Compliance | Meets the legal standards for firearm storage in your area |
Locking and Access Mechanism
In selecting the best rifle case, you must consider the locking and access mechanism. This feature determines how easily one can access the firearm.
Electronic keypad locks offer quick access and the ability to change the code as needed.
Biometric fingerprint scanners for personalized security and quick access.
Combination locks provide a classic, reliable choice.
Traditional key locks give a sense of old-school security.
Remember, the best rifle case isn't just about aesthetics or price—it's about practicality, security, and ease of access.
DOJ-Approval
A DOJ-approved case meets stringent safety standards and is often a legal requirement in several states. These cases typically feature superior construction, advanced locking mechanisms, and high storage capacity.
Look for a case with a tamper-proof locking system for maximum security. In terms of construction, a case made from reinforced steel is a smart choice for durability and resistance to forced entry.
Frequently Asked Questions:
How Does the Size and Weight of a Rifle Safe Affect Its Overall Functionality and Portability?
The size and weight of your rifle directly impact its functionality and portability. A hefty safe provides more security but limits mobility.
A lighter, smaller safe is easier to transport but may offer less protection.
What Are the Potential Legal Penalties for Not Properly Storing Firearms in a Rifle Safe?
You risk severe legal penalties if you don't store your firearms properly. Depending on your state's laws, these can range from hefty fines to jail time.
How Often Should I Replace or Upgrade My Rifle Safe for Optimal Security?
You don't necessarily need to replace your rifle safe regularly. Instead, keep it in top shape by maintaining it properly.
Only consider upgrading when it's damaged or no longer meets your storage or security needs.
What Maintenance Does a Rifle Safe Require to Ensure Long-term Durability and Performance?
You'll need to regularly inspect your safe for signs of wear, lubricate the locking mechanism, and ensure it's free from dampness.
Remember, proper maintenance extends your safe's lifespan and keeps your firearms secure.
Are There Additional Accessories or Enhancements That Can Improve the Security of My Rifle Safe?
Absolutely, you can enhance your rifle safe's security.
Consider adding biometric locks, motion sensors, or alarm systems. They'll give you extra peace of mind knowing your firearms are even more securely stored.
Conclusion
Investing in the best rifle cases is more than just storage— it's about safeguarding your firearm and ensuring peace of mind.
With the top picks for 2023 outlined, you're well-equipped to make an informed decision.
For advanced, quick access, and overall protection, the RFID feature of Hornady RAPiD Safe is a must-have for your rifle. However, if you're looking for a storage solution for multiple rifles, the capacity of Winchester Ranger Deluxe 19-7-E Gun Safe will not disappoint you.
Lastly, the SnapSafe Under Bed Safe offers versatility and durable construction to solve your storage problem under bed.
Best Overall
Material:

16-Gauge Steel

Handgun Capacity:

Up to 3 rifles

Dimensions:

10'D x 15.25'W x 42'H

Durability:

5/5

Pricing: 2/5

Best Capacity
Material: Alloy Steel
Handgun Capacity:

Up to 24 long guns

Dimensions: 60

'H x 28'W x 23'D

Durability:

5/5

Pricing: 3/5

Best Quick Access
Material:

Alloy Steel

Handgun Capacity:

Up to 2 rifles

Dimensions: 48

'D x 24'W x 7'H

Durability: 4/5
Pricing: 4/5
FP7 Hunt is reader supported and may earn a commission when you purchase using our links
Latest posts by John Uniforme
(see all)