Last updated: 8th May 2023
Hunting in Kentucky is like an apple in the eye for turkey and deer hunters. Many hunters around the United States travel to experience its exceptional hunting opportunities.
Let's get this straight: Kentucky's waterfowl is less rich than deer and turkey hunting. But, the state still provides ample chances for avid hunters to test their skills.
This article will explain everything about hunting opportunities hunters can enjoy in Kentucky. From its hunting seasons to regulations, I have it all for you in one single click!
Ready to embark on the rich hunting culture of the Bluegrass state? Let's keep going!
Table of Contents
Kentucky Hunting Season
Kentucky state offers very lenient hunting seasons for the state's licensed hunters. It provides opportunities to hunt both big games and small games.
Here's the list of seasons set by the state's Department of Fish and Wildlife Resources (KDFWR):
Big Game Hunting Seasons
Whitetail Deer
Archery: Early September to mid-January
Crossbow: Mid-September to mid-January
Youth Firearms: Second weekend in October
Modern Gun: Mid-November for about two weeks
Muzzleloader: Mid-October for a weekend; Mid-December for about a week
Free Youth Weekend: Last week of December
Black Bear
Archery and Crossbow: Late October for about two weeks
Chase: June to August & Early to late September
Modern Gun: Early December for about a week
Elk
Archery and Crossbow: Mid- to late September & Early December
Firearms (Bull): Late September & Early October
Firearms (Cow): Late November & Early December
Other Game Hunting Seasons
Wild Turkey
Archery Fall: Early September to mid-January
Crossbow Fall: Early to late October & Mid-November to December
Firearm Fall: Late October to early November & Early December for a week
Spring: Mid-April to early May
Mourning Dove
September to late OctoberLate November to early DecemberLate December to mid-January
Waterfowl Games
Coot and Ducks: Late November & Early December to January
Canada and White-fronted Goose: Late November to mid-February
Snow Goose: Mid-February to March
Small Games
Bobcat: Mid-November to February
Coyote: Year-round
Coyote Night Hunting (w/o lights): June to November
Coyote Night Hunting (w/ lights): Mid-May to June
Groundhog: Year-round
Rabbit: November to early February
Squirrel: Late August to mid-November & Mid-November to February
Kentucky Big Game Hunting
Big game hunting in the Bluegrass state is a popular outdoor activity many hunters enjoy. It offers opportunities for white-tailed deer, elk, and black bear hunting.
Whitetail Deer
https://www.wallpaperflare.com/brown-deer-beside-tree-white-tail-deer-portrait-wildlife-wallpaper-wymxw
Kentucky's white-tailed deer hunting is a popular and rewarding outdoor activity. What's best is it's available for both residents and non-residents.
The state is famous for its reputation for producing trophy-sized bucks. In fact, the state has ranked high in trophy deer production. That attracts hunters from across the nation in search of trophy bucks.
Kentucky offers various hunting methods for hunters of different skill levels and preferences. It got archery, modern firearm, and muzzleloader season.
Kentucky archery season is the longest among all the hunting methods.
Black Bear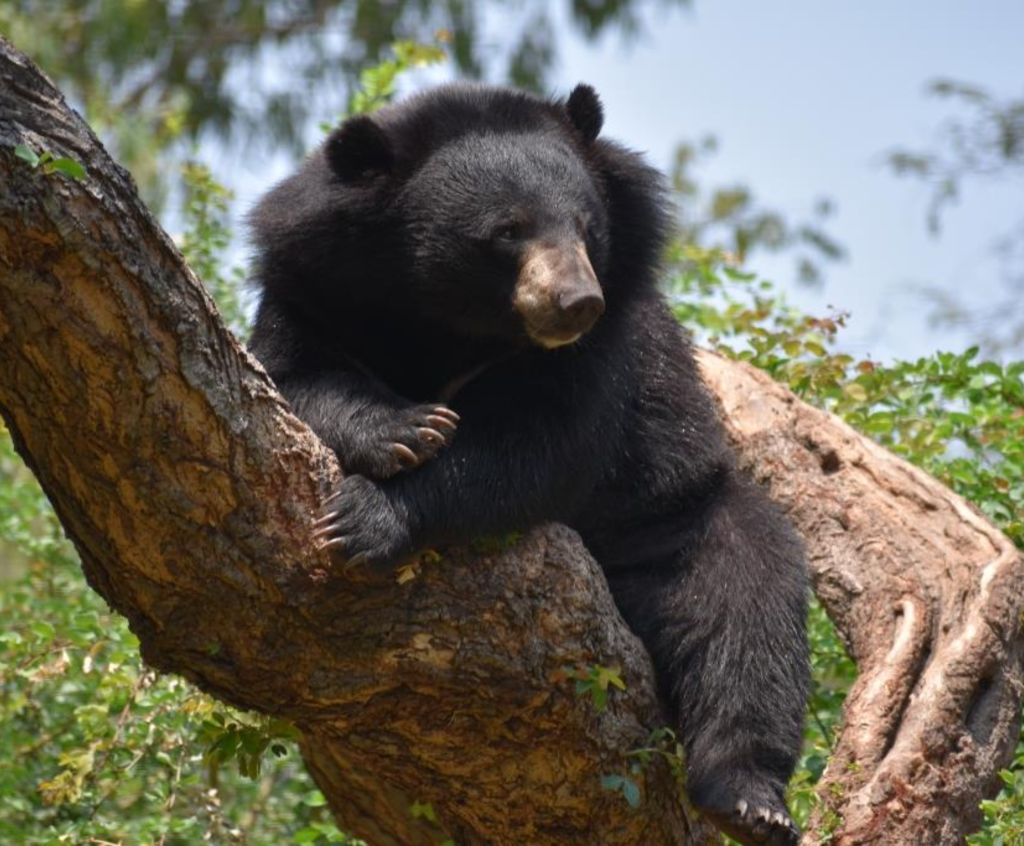 https://commons.wikimedia.org/wiki/File:The_Himalayan_black_bear_%28Ursus_thibetanus%29_is_a_rare_subspecies_of_the_Asiatic_black_bear._12.jpg
Black bear hunting has gained popularity recently due to the increasing bear population. Its growing population is most evident in the southeastern part of the state.
Interested in black bear hunting in Kentucky? Well, it's essential to know that the rules are more restrictive than deer hunting. Make sure to hunt only in designated bear zones, as each zone has unique regulations and quotas.
Also, remember the special requirements when hunting black bears in the state. These requirements occur on the age and sex of the bears you're allowed to hunt. For example, you can't hunt females with cubs or cubs under a certain weight.
Elk
https://www.flickr.com/photos/lblkytn/7557582882
Elk hunting is a fantastic opportunity for hunters. The state boasts one of the largest elk populations in the eastern United States. That is thanks to a successful elk restoration program that began in the late 1990s.
But to ensure its sustainable population, the state implemented lottery-based hunting permits.
Hunters wishing to join the elk hunt must apply to enter the lottery. The application period runs from January to April. Elk hunting is available for both resident and non-resident hunters.
But remember that there are fewer allocated permits for non-residents.
Kentucky Small Game Hunting
Small game hunting in Kentucky is a great way to enjoy the outdoors and sharpen your hunting skills. With various species to pursue, and ample public lands, there's something for everyone.
Turkey
https://www.flickr.com/photos/myfwcmedia/32084012208
If you're considering turkey hunting in Kentucky, you're in for a real treat. Turkey hunting is a pursuit offering hunters chances to experience the great outdoors.
Did you know Kentucky is home to around 220,000 wild turkeys? That's a lot of birds, thanks to successful restoration efforts. Your chances of spotting these fantastic creatures are pretty good!
Share the thrill with young adventurers by joining special youth hunting weekends. It encourages the next generation to develop their hunting and outdoor skills.
Mourning Doves
https://www.flickr.com/photos/monteregina/50122055788
Are you interested in mourning dove hunting in Kentucky? Lucky you because you're in for an enjoyable experience!
Kentucky is home to a healthy population of mourning doves. And we thank their ability to adapt to various habitats for that.
The state has wildlife management areas (WMAs) and public areas for dove fields. Dove hunters can also seek permission from private landowners to access their properties.
Waterfowl Hunting
As I've said, waterfowlers have less in the state than other hunters. Waterfowl hunting opportunities are only present in Kentucky's western and southern parts.
Although less rich, it still offers a rewarding experience for those patient enough. With diverse habitats and migratory bird flyways, Kentucky has something for waterfowl enthusiasts.
Where To Hunt in Kentucky?
Kentucky has many fantastic hunting locations, offering diverse habitats and game species. The state has crop land to rolling hills where ample opportunities await you.
Western Kentucky
Land Between the Lakes National Recreation Area (LBL)
https://www.flickr.com/photos/lblkytn/21712210034
Spanning over 170,000 acres, LBL is a popular hunting destination in Western Kentucky.
With abundant wildlife and various game species, LBL offers a unique hunting experience. This area is home to the growing deer, turkey, and small game population. Check their specific rules and regulations; some areas may ask for extra permits.
Peabody Wildlife Management Area
This over 60,000-acre management is another prime hunting location in Western Kentucky. The area is well-known for deer, turkey, waterfowl, and small game hunting.
Peabody WMA also provides even more opportunities for hunters. It has designated areas for waterfowl and dove hunting available for hunters.
Eastern Kentucky
Daniel Boone National Forest
https://commons.wikimedia.org/wiki/File:Fall_Color_at_Natural_Arch_-_Sterns_RD_-_Daniel_Boone_National_Forest.jpg
Daniel Boone National Forest is a vast 700,000-acre hunting area in Eastern Kentucky. The forest is home to deer, turkey, black bears, small game, and waterfowl.
Remember that some areas within the national forest may have specific regulations. Always familiarize yourself with the rules before hunting.
Big South Fork National River and Recreation Area
This area offers excellent hunting opportunities for deer, turkey, and small game. With over 120,000 acres of land, this area provides diverse habitats for wildlife. It comes hand-in-hand with a great hunting experience for every hunter.
Remember to check for specific permits required for hunting within the recreation area.
Southern Kentucky
Green River Lake WMA
https://www.flickr.com/photos/sniegowski/52495909006
Green River Lake in Southern Kentucky covers over 19,000 acres for hunting. It offers hunting opportunities for deer, turkey, small game, and waterfowl. With a mix of landscapes, this area provides diverse habitats for wildlife. The diversity of wildlife habitats makes it an excellent choice for hunters.
Lake Cumberland WMA
Lake Cumberland is a popular 50,000-acre hunting destination in Southern Kentucky. The area is famous for its thriving deer and turkey populations.
Also, hunters can enjoy this area's waterfowl and small game hunting opportunities. Lake Cumberland is a favorite among hunters with its beautiful abundant wildlife.
Northern Kentucky
Taylorsville Lake WMA
https://www.flickr.com/photos/louisvilleusace/5689732353
Taylorsville Lake WMA covers over 8,000-acre hunting opportunities. Deer, turkey, and small game are plentiful in the area. Making it an ideal hunting spot for those seeking diverse game species.
The WMA also has designated dove, rabbit, and waterfowl hunting areas.
Kincaid Lake State Park
Although smaller, it offers different hunting opportunities within its 850 acres. Forest and wetlands surround this area— making it an ideal hunting destination because of its diverse wildlife habitats.
Some specific regulations may apply, so check the park's rules before hunting.
Hunting License
To hunt in Kentucky, residents and non-residents must have the appropriate hunting licenses. License types and fees vary depending on factors. It includes the hunter's age, residency status, and the game species you're after.
Note: first-time hunters born after January 1975, must have a hunter education certificate. With the certification, hunters are eligible to buy a hunting license.
Resident Hunting License
Adult Hunting
Hunting only: $27.00
Hunting and Fishing: $42.00
Youth Hunting
Voluntary, Ages 12-15: $6.00
Senior/Disabled Hunting + Fishing Hunting
$12.00
Joint Husband/Wife Hunting
$67.00
Small Game Hunting
1-day Hunting: $7.00
Non-resident Hunting License
Adult Hunting
5-day Hunting: $85.00
1-year Hunting: $150.00
1-year Hunting and Fishing: $250.00
Youth Hunting
Ages 12-15: $10.00
Small Game Hunting
1-day Hunting: $25.00
7-day Hunting: $65.00
Trespassing and Landowner Permission
In Kentucky, landowner permission is a crucial aspect of hunting regulations. It is there to protect private property rights and promote responsible hunting practices.
Hunters must have written permission from the landowner to hunt on private property. This rule applies regardless of whether the property has "No Trespassing" signs. Written authorization should include the landowner's name, contact information, and dates for approval. Hunters must carry this document at all times while on the property.
Conclusion
Kentucky is famous for its exceptional deer and turkey hunting opportunities. But remember that waterfowlers find the state less than other states. But with rich hunting traditions, the state offers a unique experience for hunters of all levels.
Go ahead and experience the thrill of hunting in Kentucky.